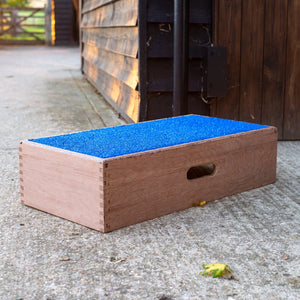 Position boxes & using them in dog training
What are position boxes?
Position boxes for dogs are also known as dog training boxes, shaping boxes or obedience boxes.
Made from Marine plywood and topped with rubber, means they are weather resistant for long life.
Finger joints provide strength and sturdiness to the position box meaning it is suited to supporting even the largest of dog breeds.
Hand holds come as standard for ease of movement around your training ground
Why do dog trainers use a box?
The dimensions of the box encourage a straight posture and limit movement.
They are commonly used in obedience circles to sharpen up a dog's posture and competition score.
This is because they are ideal tools to prevent dogs from creeping forward when in a sit or a lay, which translates to many other disciplines and dog sports.
How are Position Boxes used for dog training?
They are used to sharpen up obedience positions.
A dog that takes a step back or forward before changing position (called forging in competitive obedience) or rests on their hip when laying down, not only does not look as 'sharp' but in a competition risks losing their handler valuable points.
Using the box as a tool in your training session, you can shape clean, precise movements and practice achieving the gold standard for getting into the heel, finish, and front sit position plus position changes such as sit, stand & down.
In the world of protection dogs, they are used as a form of boundary control training, much like the place board in gun dog exercises, to teach distance or proximity to the handler. For example, the 'bark and hold' behaviour.
Position boxes are the perfect tool for communicating and teaching not only protection dogs, but also in general obedience, gun dog training and other dog sports.
For example, in dog agility, dog training platforms can be used as a target on a send away, or to line up complex entry angles to a start line.
The Position boxes for sale at Anglian Dog Works are the best of both in the training platform world, combining a position box and a place board.
So, for the avid dog sports and training enthusiasts, it saves space and money as an all-in-one solution for your training needs.
To buy your own, click any of the pictures in this article to be taken the sales page, or click here
---