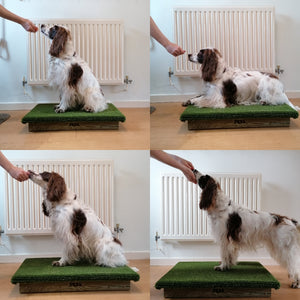 Place Boards for Canine Conditioning
Place Board as a raised platform in Canine Conditioning and Body Awareness for my Senior Sports Dog
Super Sets for my Senior Sports Dog: 
Exercises to do at home: 
The following canine conditioning and body awareness exercises are incorporated into my senior dogs routine every other day.
Why use a Place Board? 
The place board is useful as its rectangular shape controls the direction the dog faces while on the board, encouraging good body position. 

The raised platform of the place board can be used to elevate the dog and build up the rear end muscles. 

The artificial grass surface provides the dog with a target they can see and feel. The texture stimulates the dog's sense of touch and strengthens their toes and feet.
Exercise One:
We do 1 - 3 cycles of this superset:
What: A sequence of moves on a place board
Why: Tones abdominal wall, spine, shoulder and hip muscles. The board encourages good positioning.
How: move from one position to another in the following sequence, sit - lay down - sit - lay down - sit- stand - sit - stand - sit. 
Exercise Two: 
We do up to 5 repetitions of the exercises below:
What: Elevating her front on a place board to shift more weight onto the rear end.
Why: Strengthens the rear legs by loading them. 
How:
Count out 10 food rewards.

Use a piece of food to lure into a stand with front feet on the place board, wrists in line with their shoulders.

Slowly string 9 of the treats to her mouth, toss the 10th onto the floor to break position.

To progress, I increase the duration between each piece of food being given so she is in a position for longer. 
Why am I including canine conditioning and body awareness in my dogs routine? 
I noticed that my 8-year-old gundog was losing strength in her rear legs. Jumps, such as onto the sofa, were becoming more of an effort and her muscle tone in that area was decreasing. 
I have a background in veterinary medicine and knew muscle wastage like this can be a sign of the joint being less mobile to injury or stiffness so I booked her in for a vet check. The vet did notice some pain in her right hip, she has not been imaged, but it is likely she is starting to become arthritic; it has been recommended that we can manage her condition without medication and instead, continue with her healthy daily habits and have been referred for hydrotherapy. 
Healthy Daily Habits:
She is fed a high-quality raw diet and from a young age, due to her activity level, she has been supplemented with glucosamine and capsules rich in omega-3 known to support healthy joints. Search https://www.allaboutdogfood.co.uk/ food directory to check the quality of a diet. 
Now retired from agility she is still active. We enjoy off-lead hiking which provides year-round conditioning as the speed of her movement varies and her muscles work to stabilise her over logs, roots and uneven ground.
Hydrotherapy: 
Sessions in a warm pool swimming once a week provide low impact exercise to re-muscle the areas that had become weakened. The warm water provides relief for any inflammation due to arthritic stiffness.
About the author:
Hi 👋 I'm Emma, accredited as a professional dog trainer by the Institute of Modern Dog Trainers (IMDT). I help owners of energetic dogs achieve the dog-owning life they envisioned by providing robust obedience & agility training for dogs in Balsham, near Cambridge.
Disclaimer: The content of this article does not include personalised advice and is for information purposes only. If you need individual advice or other enquiries please click here to get in contact or if you're not local to Anglian Dog Works, you can find a trainer in your area by going to the IMDT website: https://www.imdt.uk.com/find-a-qualified-imdt-trainer
---